Anyone remember those all-day singings and dinner on the ground from the good old days? Where plain folk gathered together to fellowship, sing praises to God, encourage one another, and enjoy a home cooked meal in the great outdoors, while laughing and chatting?
Tables were spread with well-worn tablecloths and mix-matched dishes were overflowing with flavorful casseroles, fried chicken, side dishes galore, and desserts.
Sunshine permeated through the trees as a gentle breeze made the branches dance with its flow…
Yes, good times.
And that's exactly how it happened at Old-Fashioned Day at the Redland Community Church, the first service our ministry hosted.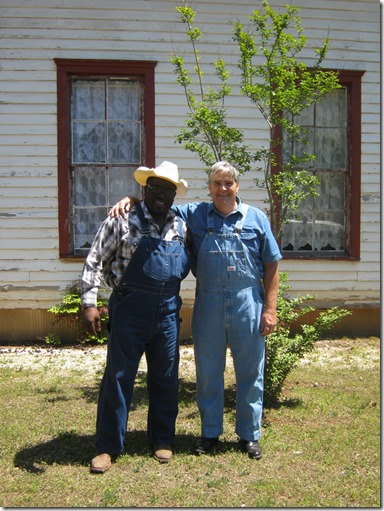 Pastor Mitchell Battles and his son, Ferguson, from Shell's Temple, came and encouraged the congregation with song and music. Pastor Battles plays the guitar and Brother Ferguson shares his talent on the drums. They were a real blessing!
Vow to the Lord
Pastor Mitchell Battles singing I Made a Vow to the Lord
Send Me, I'll Go
Pastor Mitchell Battles and his son, Brother Ferguson singing Send Me, I'll Go.
Sister Linder and Sister Belinda, from New Life Worship Center (representing Pastor Bubba and Sister Rhonda Sanders) came and testified and sang beautifully for us. They blessed us a ton too!
Brother Terry Allen blessed us with his talents on the harmonica and drums.
I wish I had captured the scene of the big tables set up outside with tablecloths, the homecooked meal and desserts, the gentle breeze, blessed laughter and fellowship – oh, what memories were created!
After all the singing and good food, Pastor James Fickle preached us an old-fashioned message. It was such a treat!
We look forward to more old-fashioned days in the future…