In the previous article, we mentioned our Valentine's Day idea for a nursing home in our area — it led to 60 bags of love…

What's in a Valentine?
It's things money can't buy such as a hug or smile that touch hearts beyond measure, or just time spent with someone who doesn't have anyone that make the most valuable, memorable gift. Time and caring doesn't take a lot of money….
Spreading the Love
To show our love and appreciation, Highways and Byways Ministries recently put together — and personally delivered — 60 custom Valentine's Day gift bags. These bags were filled with various old-fashioned candies, chosen to spark warm memories in the residents. They also contained needed items, such as socks to keep their feet warm, and a handwritten Valentine card to make them feel special and show they are loved and thought about.
One of the employees pushing the cart filled with Valentine goodies into the nursing home.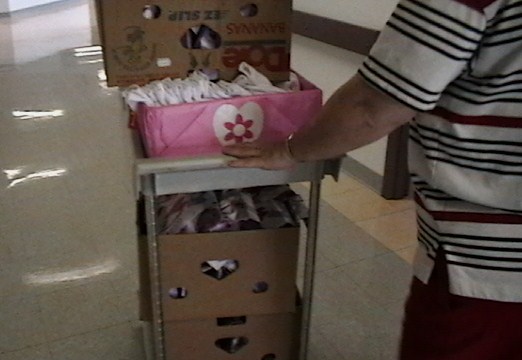 Valentine's Day bags nestled in boxes, sitting on a cart, waiting for the residents' party.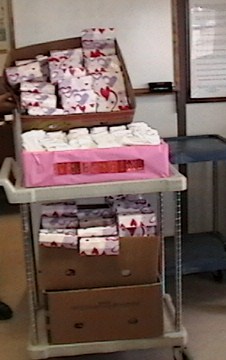 A close-up of the gift bags and socks snuggled in a decorated Valentine's box.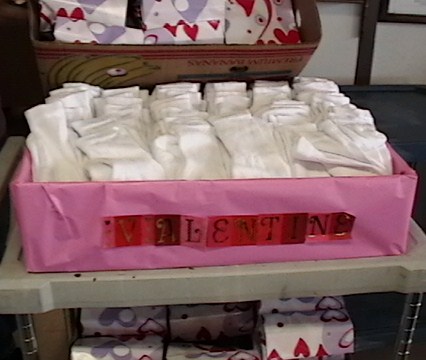 It's the Thought that Counts
It didn't take a ton of money to purchase the items necessary for assembling these Valentine bags. And, it didn't take that much time to toss the stuff in the bags, or to stop by the nursing home and carry them in.  The weathered faces that greeted us when we walked in have worked in the fields, raised children with morals, been wonderful grandparents, friends, neighbors, and citizens. Some fought for our country; others taught our children. They deserve respect, and to be remembered.
Our Valentine Gift

The smiles and excitement on the residents' faces was worth it all. There is no monetary amount or materialistic item that could replace what we felt in our hearts and souls as we watched the gratitude glowing from the faces of those who sacrificed their life and time for others, who now spend their days longing for visits from someone they love, or anyone — even someone they don't know, just to sit with them for a spell and keep them company on those long, lonely days.
Keep your money and spend yourself. — Sister Deborah J. Tune