Thanksgiving Day is often perceived as a day to race to the stores and run over each other to get a good sale – not giving an ounce of respect or concern for your fellow man – but people have forgotten the true meaning of the holiday: togetherness and kindness, thoughtfulness and gratitude.
Highways & Byways Ministries spent two days preparing plenty of food and desserts so we would have far more than our own family needed. This morning, we pulled the meal together and made plates of Thanksgiving dinner and all the fixings, along with containers of individual desserts, and delivered them to anyone in our area who were at home alone – whether due to physical illness, finances, or simply because noone was coming to be with them.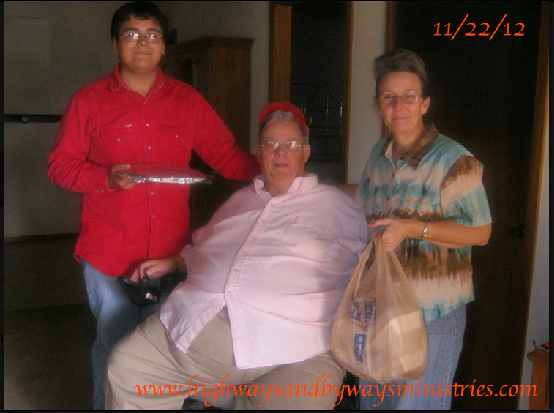 In the photo is (from left to right), Nathan Tune (aka Minister James Fickle), and a preacher Joe Carter (aka Papa Joe) who we have come to love and appreciate, as well as myself – Sister Debbie. Papa Joe gave his permission to take the photo and post it to the web. He was so thankful today that we provided him a home cooked Thanksgiving meal.
Another gentleman, not pictured, had tears in his eyes as we delivered his meal. "Thank you for thinking of me!" He said.
The feeling of joy that overcomes our soul as these people are blessed by our little bit of effort, is simply overwhelming. It is such a wonderful feeling to give! Is there anyone in your neighborhood who spends holidays alone? If so, consider making extra food and delivering some of your home cooked goodness to them.
And it is not just about one or two days of the year. Consider making this a daily or weekly habit to check on your neighbors and share what you have with them….
Holiday Blessings,
Highways & Byways Ministries