Hello from Highways & Byways Ministries!
We haven't posted in a while – but it isn't because we aren't working for the Lord. We have been singing, preaching, encouraging, and so much more. Each weekend, we sing at local nursing and assisted living homes and sometimes the hospital. It is a joy and honor to minister to and pray for our elders, who are often forgotten.
Our teachers, preachers, Vets, and more are sitting in these places day after day, hour after hour – sometimes never having the privilege of a visitor. Their faces light up when we begin singing old songs they know and many of them sing right along with us!
Our time has also been devoted to restoring and growing a church the Lord dropped right in to our lap: Redland Community Church.
Born in 1873, this precious old-fashioned church building was put together one log at a time by both the Baptist and Methodist, who joined forces to create a genuine community meeting place.
The current Board Members met and agreed to allow Highways & Byways Ministries to hold weekly services and take part in the maintenance and restoration of this precious old landmark church building.
Pictured below is my husband, Brother Stanley and me walking in to this mission head-on, with joy in our hearts.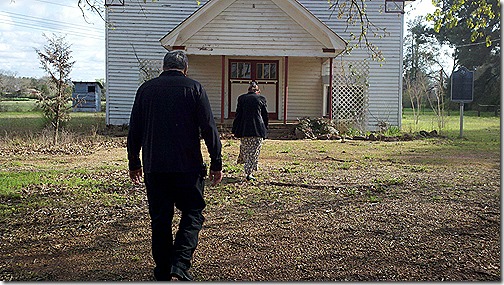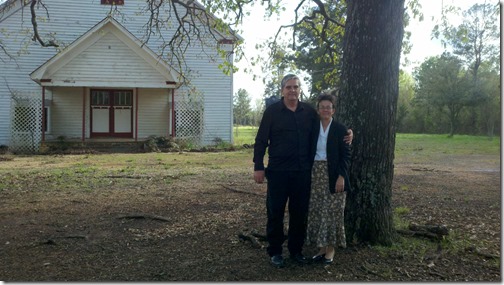 Following is some history from this site:

 

This church traces its history to 1873, when a small group of worshippers gathered together at Chinquapin Springs (one mile east) to build a community church. A small one-room log structure was completed on August 16, 1873, and was used by both Methodist and Baptist congregations.


Land at this site was donated for church and school purposes by pioneer settler Hugh Blair. The log church at Chinquapin Springs was relocated here and used as a Union church and school. The Baptist and Methodist congregations continued to share the facility. Blair donated an adjoining acre of land in 1887 and a new frame sanctuary was built.

The Baptist congregation ceased using the Union church in 1906 when they moved to the Oak Flat community and built a new church (now known as Smyrna Missionary Baptist Church). After 1906 the Union church was known as Redlands Church and was occupied solely by the Methodist congregation.

The Methodist congregation disbanded in 1964 and the Redlands Church was purchased at auction by a group of former members. The building is maintained by a Board of Trustees and is used for special services such as memorials, funerals, and weddings.
This is also the recording home of The James Fickle Show – all the creation of our grandson: Reverend Nathan Tune!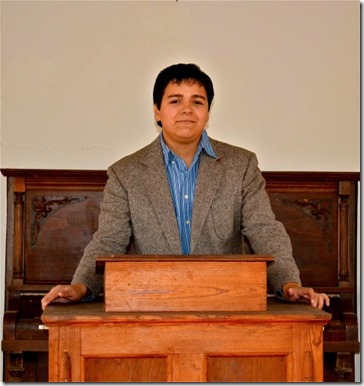 The Tune Family is on a mission to bring the community together and encourage and uplift through old-fashioned song, word, testimony, and more.
To kick things off, for our very first service, we had Old-Fashioned Day. It was a blast. Stick around, you'll enjoy the pioneer outfits and videos coming up next!